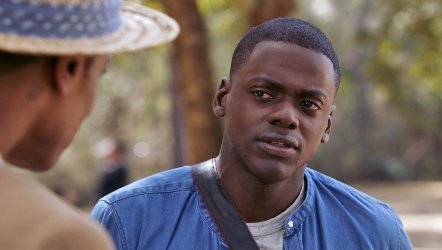 The winners for the 22nd Annual OFTA Film Awards have been announced.
The Online Film & Television Association has selected Get Out as 2017's best film. In addition, it was presented three other prizes (not including the promotional material award, which are not part of the official vote totals since they are not a direct part of the moviemaking process). Jordan Peele directorial debut is an exploration of racism in modern America. The film was also honored for Best Feature Debut, Best Original Screenplay, and Most Cinematic Moment.
Four other films were honored with three awards each. Baby Driver was cited for Best Film Editing, Best Stunt Coordination, and Best Titles Sequence. Blade Runner 2049 was honored with awards for Best Cinematography, Best Production Design, and Best Visual Effects. The Shape of Water was named Best Director (Guillermo del Toro), Best Original Score, and Best Adapted Song ("You'll Never Know"), with an additional non-tabulated award for Best Poster Design. Three Billboards Outside Ebbing, Missouri was honored for Best Supporting Actor (Sam Rockwell), Best Ensemble, and Best Casting.
The other acting awards were presented to Gary Oldman for his performance in Darkest Hour for Best Actor; Saoirse Ronan as Best Actress for Lady Bird; and Best Supporting Actress to Allison Janney for I, Tonya. Timothée Chalamet and Tiffany Haddish were given the Breakthrough awards for Call Me by Your Name and Girls Trip respectively. Brooklynn Prince in The Florida Project was named Best Youth Performance while Will Arnett was cited for Best Voice-Over Performance for The Lego Batman Movie.
The Best Foreign-Language Film award was given to The Square while Best Documentary was given to Faces Places.
We have also announced the runners-up in each category, in additional to ranking the Best Picture slate based on the submitted votes of our members.
For the full list of winners, go here.
Hall of Fame
In addition to awarding the best films of the past year, the members of the Online Film & Television Association annually select twenty films, ten actors (five male and five female), ten creative talents, and nine other technicians to be inducted into their Hall of Fame. These recipients are judged based on their historical and cultural significance as well as the quality of their achievements. Below are this year's inductees:
Productions
The Birds (1963)
Cat on a Hot Tin Roof (1958)
Cinderella (1950)
Dracula (1931)
Eternal Sunshine of the Spotless Mind (2004)
Guess Who's Coming to Dinner (1967)
Judgment at Nuremberg (1961)
Jurassic Park (1993)
Marty (1955)
Network (1976)
No Country for Old Men (2007)
Pan's Labyrinth (2006)
The Red Shoes (1948)
Rocky (1976)
Shane (1953)
The Sting (1973)
Superman (1978)
Thelma & Louise (1991)
Who Framed Roger Rabbit (1988)
Willy Wonka and the Chocolate Factory (1971)
Actors
Lauren Bacall (1924 – 2014)
Lionel Barrymore (1878 – 1954)
Glenn Close (1947 – )
The Marx Brothers [Groucho: (1890 – 1977), Chico: (1887 – 1961), Harpo: (1888 – 1964), Zeppo: (1901 – 1979)]
Robert Redford (1936 – )
Debbie Reynolds (1932 – 2016)
Ginger Rogers (1911 – 1995)
Peter Sellers (1925 – 1980)
Shirley Temple (1928 – 2014)
Orson Welles (1915 – 1985)
Architects
Warren Beatty (1937 – )
Bernardo Bertolucci (1941 – )
Joel & Ethan Coen [Joel: (1954 – ), Ethan: (1957 – )]
Roger Corman (1926 – )
Nora Ephron (1941 – 2012)
Spike Lee (1957 – )
George Lucas (1944 – )
Robert Redford (1936 – )
Douglas Sirk (1897 – 1987)
Agnès Varda (1928 – )
Support
Colleen Atwood (1948 – ) (Costume Design)
Ben Burtt (1948 – ) (Sound)
James Horner (1953 – 2015) (Music)
Janusz Kaminski (1959 – ) (Cinematography)
Emmanuel Lubezki (1964 – ) (Cinematography)
Leonard Maltin (1950 – ) (Criticism)
Gary Rydstrom (1959 – ) (Sound)
A.O. Scott (1966 – ) (Criticism)
Hans Zimmer (1957 – ) (Music)