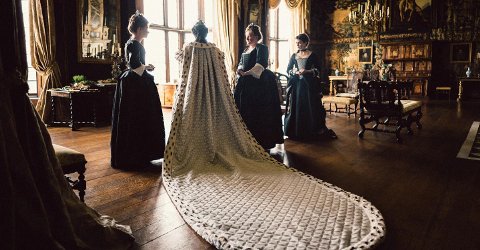 The winners for the 23rd Annual OFTA Film Awards have been announced.
The Online Film & Television Association has selected The Favourite as 2018's best film. In addition, it was presented eight other prizes (not including the promotional material awards, which are not part of the official vote totals since they are not a direct part of the moviemaking process). Yorgos Lanthimos' directorial effort looks at the reign of Queen Anne (winner Olivia Colman) as two sycophants (nominees Rachel Weisz and Emma Stone) play to her vanity as each tries to become her favorite consort. Lanthimos won the director prize and, along with Colman, picked up awards for Best Ensemble, Best Casting, Best Original Screenplay, Best Film Editing, Best Production Design, Best Makeup (in an incredibly rare tie with Vice), and the non-tabulated award for Best Movie Trailer.
Three other films were honored with three awards each. If Beale Street Could Talk was cited for Best Supporting Actress (Regina King), Best Adapted Screenplay, and Best Original Score. Spider-Man: Into the Spider-Verse was honored with awards for Best Animated Feature, Best Voice-Over Performance (Shameik Moore), and Best Title Sequence for its opening credits. A Star Is Born was named Best Feature Debut (Bradley Cooper), Best Original Song ("Shallow"), and Best Adapted Song ("La Vie en Rose").
The other acting awards were presented to Rami Malek for his performance in Bohemian Rhapsody for Best Actor and Best Supporting Actor to Richard E. Grant for Can You Ever Forgive Me?. John David Washington and Elsie Fisher were given the Breakthrough awards for BlacKkKlansman and Eighth Grade respectively. Fisher also received the award for Best Youth Performance.
The Best Foreign-Language Film award was given to Alfonso Cuaron's Best Picture nominee Roma while Best Documentary was given to Won't You Be My Neighbor.
We have also announced the runners-up in each category, in additional to ranking the Best Picture slate based on the submitted votes of our members.
For the full list of winners, go here.
Hall of Fame
In addition to awarding the best films of the past year, the members of the Online Film & Television Association annually select thirty films, twelve actors (five male and five female), ten creative talents, and ten other technicians to be inducted into their Hall of Fame. These recipients are judged based on their historical and cultural significance as well as the quality of their achievements. Below are this year's inductees:
Productions
Aladdin (1992)
All That Jazz (1979)
Anatomy of a Murder (1959)
Boogie Nights (1997)
Butch Cassidy and the Sundance Kid (1969)
Children of Men (2006)
The Dark Knight (2008)
Day for Night (1973)
Die Hard (1988)
Dirty Harry (1971)
Dumbo (1941)
From Here to Eternity (1953)
Full Metal Jacket (1987)
Halloween (1978)
Indiana Jones and the Temple of Doom (1984)
The Jazz Singer (1927)
The Kid (1921)
Make Way for Tomorrow (1937)
Memento (2000)
A Nightmare on Elm Street (1984)
The Phantom of the Opera (1925)
Rebel Without a Cause (1954)
The Return of the Jedi (1983)
Roman Holiday (1953)
Shoah (1985)
Spirited Away (2001)
The Ten Commandments (1956)
The Terminator (1984)
What Ever Happened to Baby Jane? (1962)
Z (1969)
Actors
Mel Brooks (1926 – )
Michael Caine (1933 – )
Catherine Deneuve (1943 – )
Leonardo DiCaprio (1974 – )
Sally Field (1946 – )
Carrie Fisher (1956 – 2016)
Philip Seymour Hoffman (1967 – 2014)
Frances McDormand (1957 – )
Max von Sydow (1929 – )
Denzel Washington (1954 – )
Sigourney Weaver (1949 – )
Kate Winslet (1975 – )
Architects
Pedro Almodovar (1949 – )
Paul Thomas Anderson (1970 – )
Tim Burton (1958 – )
James Cameron (1954 – )
Jane Campion (1954 – )
David Fincher (1962 – )
Milos Forman (1932 – 2018)
Jean-Luc Godard (1930 – )
Ida Lupino (1918 – 1995)
Mary Pickford (1892 – 1979)
Support
Debbie Allen (1950 – ) (Choreography)
Howard Ashman (1950 – 1991) (Music)
Margaret Booth (1898 – 2002) (Editing)
Jackie Chan (1954 – ) (Stunts)
John Dykstra (1947 – ) (Visual Effects)
Quincy Jones (1933 – ) (Music)
Sally Menke (1953 – 2010) (Editing)
Kevin O'Connell (1957 – ) (Sound)
Lisa Schwarzbaum (1952 – ) (Criticism)
Vangelis (1943 – ) (Music)