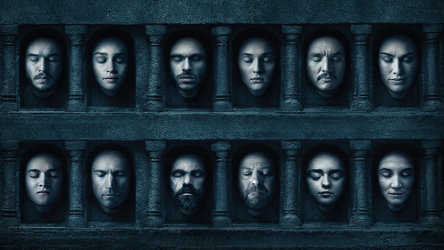 The winners for the 20th Annual OFTA Television Awards have been announced.
The Americans was the top winner in the drama categories this year with a win in Best Drama Series. It also won the award for Best Actress for Keri Russell. Game of Thrones once again topped the awards tallies with 13 awards. It nearly swept the craft awards, winning all except Best Costume Design, which it lost to Empire. It also claimed awards for Best Supporting Actor (Peter Dinklage), Supporting Actress (Lena Headey), Guest Actor (Max von Sydow), Ensemble, Directing, and Writing. Best Actor in a Drama Series went to Rami Malek for Mr. Robot and Guest Actress was awarded to Ellen Burstyn for her performance on House of Cards. The Man in the High Castle took awards for Best Main Title Design and Best New Theme Song.
On the comedy side, Veep came roaring back to life with six victories, including the win as Best Comedy Series. Julia Louis-Dreyfus was honored as Best Actress while Guet Actor went to Martin Mull. The series also won for Best Ensemble, Directing, and Writing. Transparent saw two of its actors repeat with their second consecutive wins in their respective categories with Jeffrey Tambor taking Best Actor and Bradley Whitford winning Best Guest Actor. If that's not impressive enough, Alison Janney won for the third consecutive year for her Supporting Actress performance in Mom, her fourth award from the OFTA. Charlie Day won Best Supporting Actor for It's Always Sunny in Philadelphia and Christine Baranski was honored for Best Guest Actress for The Big Bang Theory.
In the movies and limited series categories, The People vs. O.J. Simpson came out on top with seven awards. In addition to winning Best Limited Series, the show also took awards for Best Actor (Courney B. Vance), Actress (Sarah Paulson), Supporting Actor (Sterling K. Brown), Ensemble, Directing, and Writing. Sherlock: The Abominable Bride was recognized as Best Motion Picture and Best Supporting Actress was awarded to Jean Smart for Fargo. The movies and limited series also dominated the craft categories with American Horror Story: Hotel winning six of eight awards with the other two, Best Music and Best Cinematography, going to Fargo.
In the revised Variety and Non-Fiction Programming categories, the top Variety prize went to Last Week Tonight with John Oliver, which also won for Best Male Performance for host John Oliver, Best Direction and Best Writing. Best Non-Fiction Program was warded to Making a Murderer, Amy Schumer won Best Female Performance for Inside Amy Schumer, Adam Levine was the sole representative of The Voice and won the prize for Best Individual Host or Panelist in a Reality or Non-Fiction Program, and Saturday Night Live was presented the award for Best Ensemble. The new Best Animated Series category was awarded to the long-running comedy The Simpsons while Seth MacFarlane picked up the award for Best Voice-Over Performance.
For more winners, check out the following link: 20th Television Awards
Hall of Fame
In addition to awarding the best in television across the past season, the members of the Online Film & Television Association annually select ten programs, four performers and three behind the scenes artists to induct into their Hall of Fame. Below are this year's recipients:
Programs
Days of Our Lives (1965 – Present) – Debuting on NBC in November of 1965, Days of Our Lives is one of the longest running programs in television history. Over a 50-year period, Days has received 143 Primetime Emmy nominations, of which it won 46 of them. Set in the fictitious middle-American town of Salem, the series follows the Horton clan. It remains one of the most popular soaps on television in spite of a long slide in ratings for the medium. It is one of a small number still on television today.
Deadwood (2004 – 2006) – The short-lived series takes place in Deadwood, South Dakota, as the Old West town grows from a small camp to a thriving town on the edge of the American frontier. The HBO series received 28 Emmy nominations, winning eight before its untimely cancellation.
General Hospital (1963 – Present) – Centered around the Quartermaine and Spencer families in the fictional city of Port Charles, New York, General Hospital is the longest running soap opera still in production. First airing in April of 1963, General Hospital has remained incredibly popular among soap fans on ABC. In its history, it has received 322 Primetime Emmy nominations, taking home 106 total Emmys.
Hogan's Heroes (1965 – 1971) – In 1965, CBS networks aired the first episode of Hogan's Heroes, a World War II drama set in a German prisoner of war camp. The international roster of heroes are using the camp as a secret base of operations to conduct espionage and sabotage missions within Germany. The comedy series won two Emmy Awards out of twenty nominations and was immensely popular for CBS in its first two years before becoming a reliable, if unranked, workhorse for the remaining four seasons.
Moonlighting (1985 – 1989) – At the Blue Moon Detective Agency, Maddie Hayes (Cybill Shepherd) and David Addison Jr. (Bruce Willis) as they solve various crimes throughout Los Angeles. Launching the career of star Willis and reinvigorating Shepherd's stalled theatrical career, Moonlighting established the dramedy as a viable genre on television and set the benchmark for quirky, love-hate relationship on the small screen. The series received 41 Emmy nominations in its four seasons, winning 6.
Mr. Bean (1990 – 1995) – In the span of a scant 14 television episodes, Rowan Atkinson introduced the world to the unspeaking Mr. Bean, a bumbling man-child who solves various everyday predicaments with bizarre and unpredictable results. Inspired by silent era comedians and the physical comedy of Jacques Tati, the program remains incredibly popular in spite of being short-lived spawning two feature films and an animated series.
My So-Called Life (1994 – 1995) – Lasting only one season, Winnie Holzman's acclaimed high school drama series broke the mold of such efforts by introducing several challenging themes faced by teenagers in high school that weren't resolved easily in a single episode, but were ever-present issues facing the cast. Future Emmy winner Claire Danes was nominated for Best Actress for her performance in the show, which also earned three other Emmy nominations.
Sanford and Son (1972 – 1977) – NBC's answer to All in the Family, Sanford and Son explored a different side of American life featuring the loudmouthed, bigoted, scheming Fred Sanford (Redd Foxx) and his progressive, peacemaking son Lamont (Demond Wilson). Regularly in the top ten shows throughout its run, Sanford and Son received only seven Emmy nominations without a single win. It would become a strong influence for a number of African-American series that emerged in its wake and remains a cultural touchstone today.
Soul Train (1971 – 2006) – A quintessential musical variety program of the 1970s, the show predominantly featured the work of R&B, soul, and hip hop artists. The show brought music that wasn't often given its due a national stage and was an incredibly popular program throughout its run. The series one Daytime Emmy during its run out of seven total nominations for Outstanding Lighting Direction,.
St. Elsewhere (1982 – 1988) – Set in the fictional St. Eligius Hospital, St. Elsewhere followed a team of teaching doctors who brought in promising interns an opportunity to learn through making critical, life-impacting decisions. Although the show was never a huge ratings hit, it was a critical success and earned 63 nominations across its six season, winning thirteen times.
Acting
Hank Azaria (1964 – Present) – Although Hank Azaria's television career dates back to 1987, he rose to prominence in 1989 as the voice of several notable characters on the long-running animated series The Simpsons. His vocal career is impressive, but his time in front of the screen is no less memorable with prominent roles in Herman's Head, Mad About You, Huff and Ray Donovan along with several high profile guest appearances and TV movies. He's received 12 Emmy Award nominations, including five Emmys.
Candice Bergen (1946 – Present) – Daughter of legendary ventriloquist Edgar Bergen and television actress Frances Bergen, Candice blossomed on the big screen throughout the 1960s and 1970s, before turning her attention to television in the mid-80s. However, she built her own television legacy as the lead of the quintessential TV journalism comedy Murphy Brown from 1988 to 1998. She won five Emmys as her performance as the title character before withdrawing her name from future consideration for the role, an effort to ensure other actresses had an opportunity to win. Her 9 total nominations include work on Boston Legal, her next most familiar series to most audiences. She continues to work regularly on television.
Nancy Cartwright (1957 – Present) – As the unmistakable voice of The Simpsons' Bart Simpson, Nancy Carwright is most noted, but she has a long and fruitful career on the small screen. Her career began with a guest vocal performance in 1980, but blossomed as the decade wore on with work in over a dozen series and movies before landing the career-defining role on the Tracey Ullmann Show in 1987. She has over 100 television credits on her filmography and there's no indication she will stop. She has only been nominated once for an Emmy, but she won and it was for her work as Bart Simpson.
Dan Castellaneta (1957 – Present) – Another member of The Simpsons cast, Dan Castellaneta has worked in many roles on the show, but primarily as the voice of patriarch Homer. With over 200 credits to his filmography, both on the big screen and on television, Castellaneta has been working steadling for three decades. He has done vocal work on over a dozen animated series, along with several live-action performances all over the television landscape, an environment in which he has thrived. He has seven Emmy nominations, of which he's won four.
Ruby Dee (1922 – 2014) – Equally at home on the silver screen and the small screen, Ruby Dee has been a part of the television world since a performance in the TV movie The First Year in 1946. For the better part of seven decades, Dee played numerous roles on television throughout her long, impressive career. She's been nominated six times for the Primetime Emmy Awards, winning her only award in 1990 for Decoration Day.
Leonard Nimoy (1931 – 2015) – Familiar to most as the Vulcan Spock on the seminal sci-fi television series Star Trek, Nimoy had begun his TV career a decade earlier and worked steadily before landing his role on the Gene Roddenberry series. In addition to Trek, for which he was nominated at the Emmys three times (a fourth coming almost 2 decades later for A Woman Called Golda, Nimoy starred or guest starred in several hit programs including Wagon Train, The Outer Limits, Mission: Impossible, and Fringe.
Cybill Shepherd (1950 – Present) – Nominated for four Emmy awards, Shepherd began her television career in 1983 with a guest performance on Fantasy Island. The prior decade had been filled with film work, including a The Last Picture Show, The Heartbreak Kid, Daisy Miller, and Taxi Driver. Afterwards, she started out with a series of her own in 1983 as well, The Yellow Rose, but it wouldn't be until she starred opposite Bruce Willis in Moonlighting from 1985 to 1989 that she would become the television icon she has been for three decades. She followed up the hit 80s series with several TV movie performances before landing her self-titled series Cybill in 1995. She has continued working actively over the years, showing up prominently in The L Word, Eastwick, Psych, and The Client List.
Robin Williams (1951 – 2014) – While his latter career was spent predominantly on the big screen, Robin Williams rose to prominence on television. The stand up comic's guest appearance on Happy Days led to one of that show's most successful spin-offs, Mork & Mindy, as the zany, quirky alien Mork, Williams quickly carved out a name for himself becoming one of the most famous comedians in history. His sporadic television work continued until his death not long after the first season of The Crazy Ones had aired.
Behind the Scenes
Mel Brooks (1926 – Present) – While most audiences today know Mel Brooks from his big screen efforts, Brooks started out started out on television in the 1950s. Rising to prominence as a writer for Your Show of Shows and Sid Caesar Invites You, he may have become most famous for his creation of the spy comedy Get Smart in 1965. His television career took a backseat throughout the 1970s and 1980s, but he remained modestly active on the small screen as a writer during that time. Of his 13 Emmy nominations and four wins, six of thse nominations were for writing, as was one of the awards.
Larry David (1947 – Present) – Equally at home in front of the camera as behind it, Larry David has had a long, but remarkable career as a television producer. His producing career began in 1991 as one of the driving forces behind what would become one of the most recognize and often celebrated comedies in history: Seinfeld. He won his only Emmy for producing as executive producer on the series. Along with eleven other nominations for producing, David has recently stepped in to revive his popular HBO comedy Curb Your Enthusiasm for a ninth season.
Danny Elfman (1953 – Present) – Best known as the longtime collaborator of Tim Burton, Elfman has been composing for television since 1986, when he composed the music for four episodes of Fast Times. From there, he's carved out a strong career as a composer, most notably crafting the theme songs for The Simpsons, for which he was nominated for his first Emmy and Desperate Housewives, which earned him his second and last nomination, and first win.
Chuck Lorre (1952 – Present) – With eight Emmy nominations under his belt Chuck Lorre is one of the more easily recognized television producers working today. With a career spanning three decades, Lorre rose to prominence as a writer on My Two Dads and Roseanne before creating longrunning, popular shows like Grace Under Fire, Cybill, Dharma & Greg, Two and a Half Men, Mike & Molly, The Big Bang Theory, and Mom.
Oprah Winfrey (1954 – Present) – One of the most recognizable and popular figures in television history, Oprah Winfrey produced her longrunning talk show to 14 Daytime Emmy nominations for producing alone, ten of which she won. However, her career hasn't been built solely on her talk show. Winfrey has over 30 production credits on television, which have resulted in an additional five Primetime Emmy nominations to go with her Daytime Emmy haul.
Edward Zwick (1952 – Present) – The Oscar-nominated director Edward Zwick is no stranger to television. As a writer and producer, Zwick has earned nine Emmy nominations along with three awards for his television work. As a producer on the TV series Family, Zwick's small screen career grew through the 1980s with other prominent series like Thirtysomething, My So-Called Life, Once and Again, and Nashville.