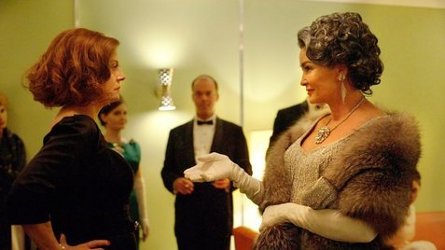 The nominations for the 21st Annual OFTA Television Awards have been announced.
Best Limited Series nominee Feud: Bette and Joan earned eighteen nominations this year, the most nominated limited series of the season. HBO's new sci-fi/western show, nominated for Best Drama Series, Westworld also pulled in eight nominations, topping the list of series for the year.
Three programs tied for third place in the nominations count. Last year's runner-up in nominations to Game of Thrones, Fargo, secured sixteen nominations this year, including a nomination for Best Drama Series. Fellow Drama Series nominees The Crown and Stranger Things also picked up sixteen. The year's top comedy series nominee was Veep with eleven and the top motion picture made for television was Sherlock for the third year in a row with the episode The Lying Detective. All were nominated in their respective program categories.
Along with The Crown, Fargo, Stranger Things, and Westworld, the other nominees for Best Drama Series are The Handmaid's Tale (15 nominations ), The Leftovers (13), This Is Us (9), and The Americans (8).
In Best Comedy Series, Veep is joined by Girls (9 nominations), black-ish (7 nominations), Transparent (7), Master of None (5), One Day at a Time (5), and Atlanta (4).
The nominees for Best Motion Picture, which includes the aforementioned Sherlock: The Lying Detective, are Churchill's Secret (5 nominations), Black Mirror: San Junipero (3), The Immortal Life of Henrietta Lacks (2), and Looking: The Movie (1).
For Best Limited Series, Fargo and Feud: Bette and Joan are nominated alongside Big Little Lies (15 nominations), The Young Pope (13), and The Night Of (11).
In the category of Best Variety Program, the nominees are
Saturday Night Live (11 nominations), Full Frontal with Samantha Bee (4), Last Week Tonight with John Oliver (4), The Late Show with Stephen Colbert (4), The Late Late Show with James Corden (3), The Tonight Show starring Jimmy Fallon (2), and Mystery Science Theater 3000: The Return (1). In Best Reality or Non-Fiction Program, the nominees are The Oscars (4 nominations), RuPaul's Drag Race (3), Vice (3), Leah Remini: Scientology and the Aftermath (2), StarTalk with Neil deGrasse Tyson (1), Talking Dead (1), and Top Chef (1).
Rounding out the program categories are the nominees for Best Animated Program. Those nominees are: Archer (3 nominations), Bob's Burger (2), BoJack Horseman (2), Family Guy (2), The Simpsons (2), South Park (1), and Steven Universe (1).
The winners will be announced on Sunday, September 17, 2017.
For the full list of nominees, visit the Awards page.