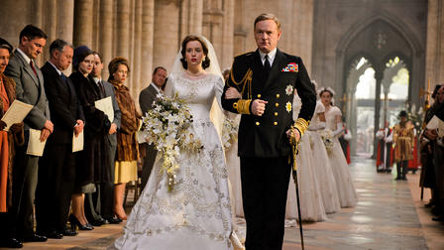 The winners for the 21st Annual OFTA Television Awards have been announced.
The Handmaid's Tale was the top winner in the drama categories this year with a win in Best Drama Series. It also won the awards for Best Actress for Elisabeth Moss and Drama Guest Actress for Alexis Bledel along with four other awards for its ensemble, directing, writing, and editing. However, it was The Crown that took home the most awards with eight. The period drama scored wins in Best Drama Supporting Actor for John Lithgow, Jared Harris for Best Guest Actor in a Drama Series, along with six other awards. Best Actor in a Drama Series went to Justin Theroux for The Leftovers, and Best Supporting Actress in a Drama Series went to Thandie Newton for Westworld.
On the comedy side, newcomer Atlanta topped all other comedy programs with four awards including honors for Best Comedy Series, Comedy Actor (Donald Glover), directing and writing. Julia Louis-Dreyfus was recognized again for her work on Veep in Best Actress while Titus Burgess and Jane Krakowski won the supporting awards for Unbreakable Kimmy Schmidt. Riz Ahmed won the first of his two awards for Best Comedy Guest Actor while the late Carrie Fisher took the award for Guest Actress in Catastrophe. black-ish was named Best Comedy Ensemble.
In the movies and limited series categories, Fargo was the most honored series with seven awards, with David Thewlis as Best Supporting Actor along with prizes for writing and four craft category awards. Big Little Lies, however, claimed the Limited Series award along with four other prizes for Best Actress (Reese Witherspoon), Supporting Actress (Laura Dern),
ensemble, and directing. Ahmed was honored with his second award for Best Actor in The Night Of while Feud: Bette and Joan was shut out of the top categories, settling for awards in production design, costume design, and makeup. Black Mirror: San Junipero was selected as Best Motion Picture and American Horror Story: Roanoke was awarded for its visuale effects.
Variety and Non-Fiction Programming categories, the top Variety prize went to Last Week Tonight with John Oliver, which also won for Best Writing. Best Non-Fiction Program was warded to Leah Remini: Scientology and the Afermath, Kate McKinnon and Alec Baldwin won the performance prizes for Saturday Night Live, RuPaul was named Best Host, and Saturday Night Live also won for Best Ensemble and Directing. The Best Animated Series category was awarded to the spy comedy Archer while Will Arnett picked up the award for Best Voice-Over Performance for Bojack Hosreman.
For more winners, check out the following link: 21st Television Awards
Hall of Fame
In addition to awarding the best in television across the past season, the members of the Online Film & Television Association annually select twenty programs, eight performers, and six behind the scenes artists to induct into their Hall of Fame. Below are this year's recipients:
Programs
Ally McBeal (1997 – 2002)
Cagney & Lacey (1982 – 1988)
The Colbert Report (2005 – 2015)
Days of Our Lives (1965 – Present)
Deadwood (2004 – 2006)
Designing Women (1986 – 1993)
Everybody Loves Raymond (1996 – 2005)
The Facts of Life (1979 – 1988)
Family Feud (1976 – 1985)
General Hospital (1963 – Present)
Mad About You (1992 – 1999)
Malcolm in the Middle (2000 – 2006)
The Price Is Right (1972 – Present)
Roots: The Next Generations (1979)
Sex and the City (1998 – 2004)
Six Feet Under (2001 – 2005)
St. Elsewhere (1982 – 1988)
thirtysomething (1987 – 1991)
Will & Grace (1998 – 2006)
The Young and the Restless (1973 – Present)
Acting
Ted Danson (1947 – Present)
John Goodman (1952 – Present)
John Lithgow (1945 – Present)
Julia Louis-Dreyfus (1961 – Present)
Laurie Metcalf (1955 – Present)
Rita Moreno (1931 – Present)
Tom Selleck (1945 – Present)
Jean Smart (1951 – Present)
Behind the Scenes
Lucille Ball (1911 – 1989)
Linda Bloodworth-Thomason (1947 – Present)
Marcy Carsey (1948 – Present)
Larry David (1947 – Present)
Diane English (1948 – Present)
Mimi Leder (1952 – Present)